President's Message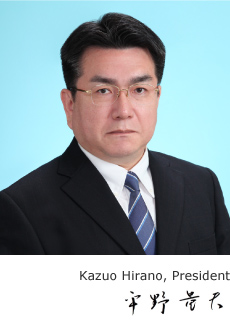 Based on the company credo "R&D is the way to contribute to the society and to be a sustainable manufacturer", since the foundation in 1918, our group, as a "development-oriented company", has been working on product development with originality and technique cultivated in more than a century of tradition. Thanking to customers' support, the products that we handle have grown to be in the industry-top-class in terms of usage-versatility in each industrial field. With our serious consciousness of "customer satisfaction", we have been committing to quality, which is the fundamental of manufacturing, and have been proactively developing the products applicable with every industry.
Meanwhile, the Covid-19, that has been spreading all over the world since the beginning of 2020, brought serious impacts to the global economy, and affected largely many industries and consumption trends. From now on, Covid-19 would be kept under control by commencement of the action of intensive vaccination campaigns, and the economic activities are expected to be revitalized. We, however, will be still facing the risks of variants that make it difficult for us to have clear views of the future.
Even in such situations, for our metal products business, that is our principle business domain, we keep on working to enhance our product selection with the point of the end-users and to develop the one-of-a-kind products that reflect their needs with a wide product line-up ranging from professional working tools to special cranes, material handling equipment, and jigs for machine tools. In addition, we're going to put more effort also on overseas markets with the aim of building up a global brand through our active expansion of sales channel.
Regarding our environment-related business, even in difficult business circumstances such as regulation revisions in Japan, we provide an integrated service covering sales of solar-power-generation-related equipment, design & construction, maintenance, and sales of solar power plants. Through these activities, we continue our effort for energy saving in industrial fields and CO2 reduction to contribute to environmental conservation as a "Technology Trading Company". As for the three photovoltaic power plants that we built and own in two municipalities of Osaka Prefecture in Japan have been in smooth operation and contributing to stabilization of earnings of the company.
In these years the business environment that surrounds us has been transforming day by day significantly due to rapid digitalization in every industry, and due to various measures adopted against Covid-19 crisis, etc.
As a development-oriented company that has been continuing to create the products keeping with their times, our group will continue constantly to challenge innovation and aim to become a company in which the customers will put their best trust.
4 June, 2021
SUPER TOOL CO., LTD.
Kazuo Hirano, President