President's Message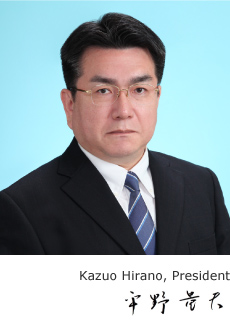 Based on the company credo "R&D is the way to contribute to the society and to be a sustainable manufacturer", since the foundation in 1918, our group, as a "development-oriented company", has been working on product development with technique and originality cultivated in more than a century of tradition. Thanking to customers' support, the products that we handle have grown to be in the industry-top-class in terms of usage-versatility in each industrial field. With our serious consciousness of "customer satisfaction", we have been committing to quality, which is the fundamental of manufacturing, and have been proactively developing the products compatible with the various industries.
At the same time, however, the Covid-19 pandemic has been affecting largely many industries and consumption trends. Though it is expected that the Covid-19 shall be kept under control, and the economic activities shall be revitalized, there might be several business risks such as the new variants of Covid-19, the consequences of the Russian-Ukrainian crisis, the material cost increase, the inflation of petroleum price, that make us difficult to have clear views of the future.
Even in such situations, for our metal products business, that is our principle business domain, we have a wide variety of products, including professional work tools, special cranes, material handling equipment, and jigs and tools for machine tools. Under the pursuit of efficiency and safety, in order to respond to various changes in the business environment including the corona era in the future, we will enhance the product lineup from the user's perspective, and we will develop one-of-a-kind products that reflect needs in the field. Thus, we continue to work on further business expansion.
In order for us to materialize business expansion, since it was necessary to solve the issue of production capacity, the investment on renewal of the factory, the production equipment and the storage warehouse is to be realized. By further strengthening the profit structure through the renewal of the production facility, the improvement of corporate value is aimed as well.
In addition, we shall focus on overseas markets, and we shall improve the brand image and recognition, to grow a global brand by appealing the products a Japanese company, by proactively expanding sales channels. Moreover, we shall realize adaptability to changes in the business environment in the new era, such as the recent global and rapid digitalization.
As a development-oriented company that has been continuing to create the products keeping with their times, our group will continue constantly to challenge innovation and aim to become a company in which the customers will put their best trust.
10 June, 2022
SUPER TOOL CO., LTD.
Kazuo Hirano, President